Goodrich Ministry | Love Muslim Neighbors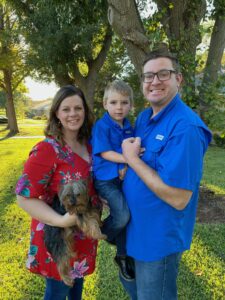 We are Grant and Kimberly Goodrich and we work with refugees from the Muslim faith in North Dallas. We have serve among this people group for the past 10 years and have been amazed to see God's hand at work. We are so thankful for the support of MacArthur Blvd as our sending church. Thank you for your interest in this ministry and we would love to talk with you more about helping with any of the following opportunities.
Join our Newsletter by filling out this form.
If you would like to give to our local ministry, please click here, and select "Goodrich Ministry Account" in the drop-down box.
Below are opportunities to get involved. Our ministry is always changing, so please check back again for ministry updates and new ways to serve.
Ongoing Donations for Newly Arriving Afghan Refugees
Purchase and donate new items that will be delivered directly to the arriving families by our mission action team. You can bring these items to the church during the week, Monday – Thursday, 8:00 a.m. – 5:00 p.m. or on Sunday mornings. A donation box will be located in the foyer behind the Next Step desk.
Bath towels
Wash clothes
Bath mats
Pot Holders
Dish Towels
Blankets
Pillows
Kitchen Items: cooking utensils, cups, and dishes
Hygiene items: toothbrush, shampoo, soap, brooms, dust pans, vacuum cleaners 
Local Afghan Response Mission Action Team
If you are interested in learning more about joining our mission action team to connect with and serve newly arriving Afghan families, please email Grant Goodrich at Grant@smpglobal.org. Opportunities may include: airport pickup, furnishing apartment, visiting the home to deliver needed items, spending time with the family, taking them on errands or activities, etc.
*There is a required Saturday training required to volunteer with this team.
Food Distribution Outreach
When: Two Saturdays each month in partnership with Fearless Love Ministry
Where: Seven Loaves Food Bank, 5801 W. Plano Pkwy. Plano, TX 75093
We need small teams to assist us loading up the groceries from a local food bank and delivering it to designated Afghan and Arab refugee families. This is an opportunity for our church to check on our families as ambassadors of Christ.
*There is a required Saturday training required to volunteer with this team.
Sewing Ministry
When: Mondays and Tuesdays from 11 a.m. – 1 p.m.
Where: Disciples of the Way Ministries, 6500 Greenville Ave., Dallas, TX 75206
Come and see how the Lord is granting local missionaries favor among Arab Muslim women at a local Christ-centered refugee center. What a great opportunity to connect with women from Iraq, Syria, and Jordan who are longing for fellowship with other women.
Women's Tea and Wellness Clinic
Spring 2022
Help local missionary families host a tea time and wellness clinic for refugee women. We will need women to help prepare refreshments and engage in conversation. We will also need women from the healthcare industry who can offer their skills to provide free wellness screenings.
Evangelistic Picnic
Spring 2022
Help local missionary families host a large outdoor picnic. At these annual picnics we enjoy worship, preaching, food and activities for children. There are many ways to get involved and join the fun! We need supplies donated, van drivers, food servers, activities for children.
Prayer Requests
Pray for opportunities to learn about new arriving families