Description
Lead the Cause
A unique, nation-wide, virtual event that combines both camp and mission trip. Listen to national speakers and learn to be fluent in the gospel. The theme of LTC 2020 is ACTIVATE—a theme focused on the early church in Acts and their goal of making disciples who make disciples. Students will learn what it means to truly follow Jesus in spreading the gospel within their own circle of influence.
Date: Monday-Thursday, July 27-30, 2020 (Students will participate from home)
$89/CAMPER
Full payment due upon registration – deadline July 10
Schedule: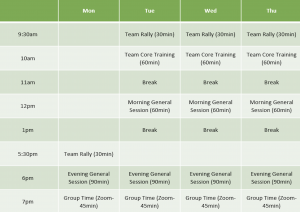 Please Register by completing the form below and pay the church directly by using the payment link below. Pastor Enoch will register and pay for each participant on the event website.