Candidate for Pastor of Missional Engagement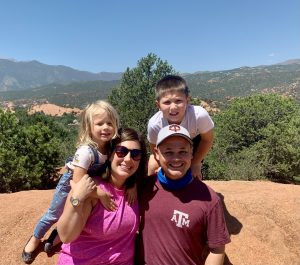 After our vote on May 23, 2021, we are very pleased to announce that John Williamson was affirmed as Pastor of Missional Engagement with 95% of the votes we received.
We are so grateful that God continues to provide the leadership we need, and we look forward to how God will use John in this new role. Please continue to pray for John and his family as he leads us in the area of Life on Mission.
If you have questions for John or for our Directional Pastors, we invite you to send your questions to info@mbbcirving.org and the appropriate person will get back with you. We have also answered some anticipated questions below:
The Pastor of Missional Engagement will help develop, equip, and mobilize our church for a life on mission. Some of his primary responsibilities will be to:
Lead the planning, development, and implementation of new missional opportunities for our church, including special initiatives and on-going efforts
Provide direction and coaching to leaders over existing missional ministries (e.g. BBMS Mentoring, Love Muslim Neighbors, etc.)
Work with missional ministry partners to learn how our church can support and be engaged (e.g. Crisis Ministries, Thrive Women's Clinic, etc.)
Train and coach Community Group Missional Leaders in developing missional culture and opportunities for their group
Provide care and support to our missionary partners through our missionary-staff advocacy relationships
Develop and manage the annual Missions Spending Plan
Work with Directional Pastors to develop and implement strategy for church-planting
We have a strong family ministry staff as well as full-time staff dedicated to the first two steps of our Discipleship Pathway: Life of Worship and Life in Community. Praise God! However, we have not had a dedicated Pastor to focus specifically on the third step or our pathway, Life on Mission. To fulfill our vision of developing and deploying ever member to live on mission, we have needed a Pastor of Missional Engagement.
Yes, we will be able to fund this position without having to increase our personnel budget. Yes, we anticipate being able to fund this position in future budgets. If we need to lower our personnel budget in the future, we plan to prioritize missional engagement within those decisions given our vision as a church. We also anticipate growth as a result of hiring a dedicated Pastor for missional engagement, which will only help our financial outlook. Any hire is to some degree a step of faith, and we believe God is leading us to take steps forward in our commitment to missions.
John is married to Sarah and has two children, Eli and Naomi. He is an enthusiast for disciple making, sports, business and food. These passions started as a kid in his hometown of Brownwood, Texas. He met Sarah at Texas A&M University and graduated with his BS and MS in accounting. 
All throughout his early childhood, John heard the gospel from his dad and mom. Before following Christ, he tried to find his identity in sports and morality. In fifth grade at Lake Brownwood while attending a royal ambassador camp, he placed his faith in Christ and began to follow Jesus. He was baptized at Coggin Avenue Baptist Church. By God's grace, he now identifies as a Christ follower. He is learning to love and follow Jesus in every area of his life.
In seventh grade, John began to sense a calling for ministry. Years later he realized that this calling was to be used in the context of business. In August of 2005, he started a career as a certified public accountant and plugged into MacArthur Blvd Baptist Church. At MBBC, he served as a community group director, youth group leader, deacon, trustee, finance committee member, and a leader in missions. In 2017, Sarah got a job transfer and his family moved to Twin Cities, Minnesota.
After moving to the Twin Cities, he launched a non-profit called the Kingdom Multiply Network. This network exists to help everyday people thrive in their calling to work while making disciples in their harvest field. He is asking the Lord to raise up 50 leaders focusing on the workplace and the college campus by year 2025. Through these leaders he anticipates that new disciple making movements will establish 200+ congregations sprouting from 25,000 good news conversations with the lost.
While living in Minnesota, John began to have a stronger desire for vocational ministry. In January 2020, his calling to vocational ministry was affirmed by The Heights Church in Richardson, Texas. He went on staff as Pastor of Operations and oversaw the launch of the Canyon Creek neighborhood missional community groups. After a few months, he began to sense a more specific calling to missions ministry. John and his family are excited to reunite with their MBBC family and focus on missional engagement.